Key statistics
200+ employees in 9 countries
79% Trust Index rating (2020)
57% Female Employees (2020)
Our Culture and Values
Our culture of working together is strongly rooted in our values of Performance, Realism, Accountability, Integrity, Skill and Entrepreneurship
"At no time has our culture of working together been more valuable to us than during 2020, as we sought to navigate the challenges of the global pandemic"
Peter Butterfield, Chief Executive Officer
Employee Engagement
Regular engagement with our stakeholders is an integral part of how we operate as a business – actively seeking to understand the concerns and aspirations of our employees, how they perceive the business and their levels of engagement.
The Group's Senior Leadership Team ('SLT') engages regularly with employees and monitors their views and any concerns raised closely.
In 2020 Alliance took part for the first time in the Great Place to Work® ('GPTW') survey. We were extremely pleased to have been Great Place to Work®-Certified both in the UK and in China and to have earned a Best Workplaces™ nomination in the UK.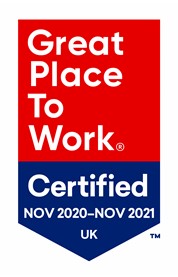 Diversity and Inclusion
We are committed to equality of treatment for all employees, and those seeking employment with the Group, regardless of gender, marital status, race, ethnic origin, colour, nationality, national origin, disability, sexual orientation, religion or age, geographical origin, social status or areas of abode.
In the GPTW survey, we were pleased to see that fairness and equality was one of our highest scoring areas.
The Group is committed to complying with all current legislation concerning unfair discrimination and to encouraging good practice in equality of treatment.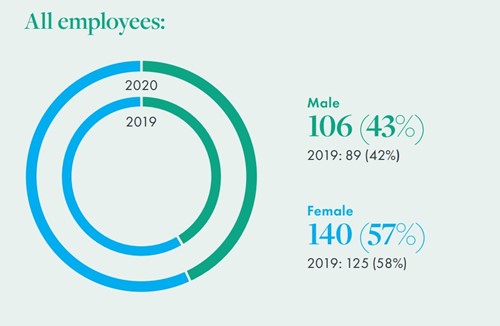 Make-up of Alliance's employee base at 31 December by gender
Training and Development
We are committed to offering all permanent employees, whether full or part time, appropriate opportunities for training, development, and career enhancement, actively encouraging and supporting the development of their skills and knowledge through internal and external short courses and formal training programmes.
Annual development reviews are carried out for all employees, to identify job-specific training needs, and future career progression aspirations. These run alongside our annual performance appraisal process, which provide an opportunity to assess progress and performance against pre-agreed goals and objectives,
We also have several leadership and management development programmes in place.
Health and Well-being
We are committed to ensuring the health and wellbeing of all our employees.
We provide schemes such as Healthcare insurance and these are reviewed annually to ensure they continue to meet the needs of the business and our employees across geographies.
The Group has a formal work/life balance policy under which eligible employees can request a change to their working hours, or working patterns.
During the pandemic, we have also been supporting those needing more flexible working arrangements to balance home schooling/caring responsibilities with work commitments, and the Ways of Working survey have provided a means for management to identify and address any potential areas of concern.